Trulign® Toric Lens
What is Astigmatism?
A person's eye is normally shaped like a sphere. When light enters the eye, it bends evenly, creating a clear image of the object being seen.When you have astigmatism, your eye is more oval-shaped than round. As a result, light enters the eye and bends more in one direction than the other. This allows only part of the object to be in focus at one time.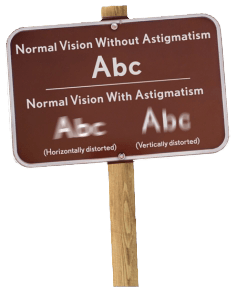 Trulign Toric® Astigmatism Correction
This will be the ONLY lens on the market that will provide accommodation as well as fix astigmatism! This intraocular lens provides correction for astigmatism while delivering a broad range of improved vision for patients undergoing cataract surgery. The FDA granted full approval of this lens on May 21st, 2013.This lens can correct up to 3 diopters of astigmatism and has unsurpassed FDA results in uncorrected vision, stability and reduction of astigmatism. Not only does this lens correct astigmatism but it also adds near vision for most patients, something no other lens on the market currently does.The TRULIGN may be able to correct all of a patient's refractive errors, nearsightedness, farsightedness, astigmatism at the time of cataract surgery, and also add near vision.